Red Onion Press Studio
We've created a local, home-grown workshop space designed to meet the needs of artists and anyone else wanting to learn about and explore printmaking and letterpress.
Facilities
Currently we are able to accommodate letterpress, relief, and intaglio processes. Our equipment and facilities include:
24" x 48" Etan etching press

24" x 48" Wright etching press

1900 Reliance hand press

1880's Favorite Excelsior 4x6 table top press

1905 Goulding Pearl 8x10 treadle press

1911 Chandler & Price 8x12 platen press

1909 Chandler & Price paper guillotine

several drawers of movable type font

18" x 18" ferric chloride etching tank

18" x 24" aquatint box

40" x 50" drying rack

large work table

assorted hand brayers
classes
Here at the Red Onion Press education is central to our cause. We offer tours, instruction, and classes in various printmaking processes, including letterpress, intaglio, relief, collagraph, and monotype. We have learning experiences appropriate for every age group. Whether you are just looking to learn about the process and the history, or you're looking to get your hands dirty making your own works of art, the Red Onion is here to help.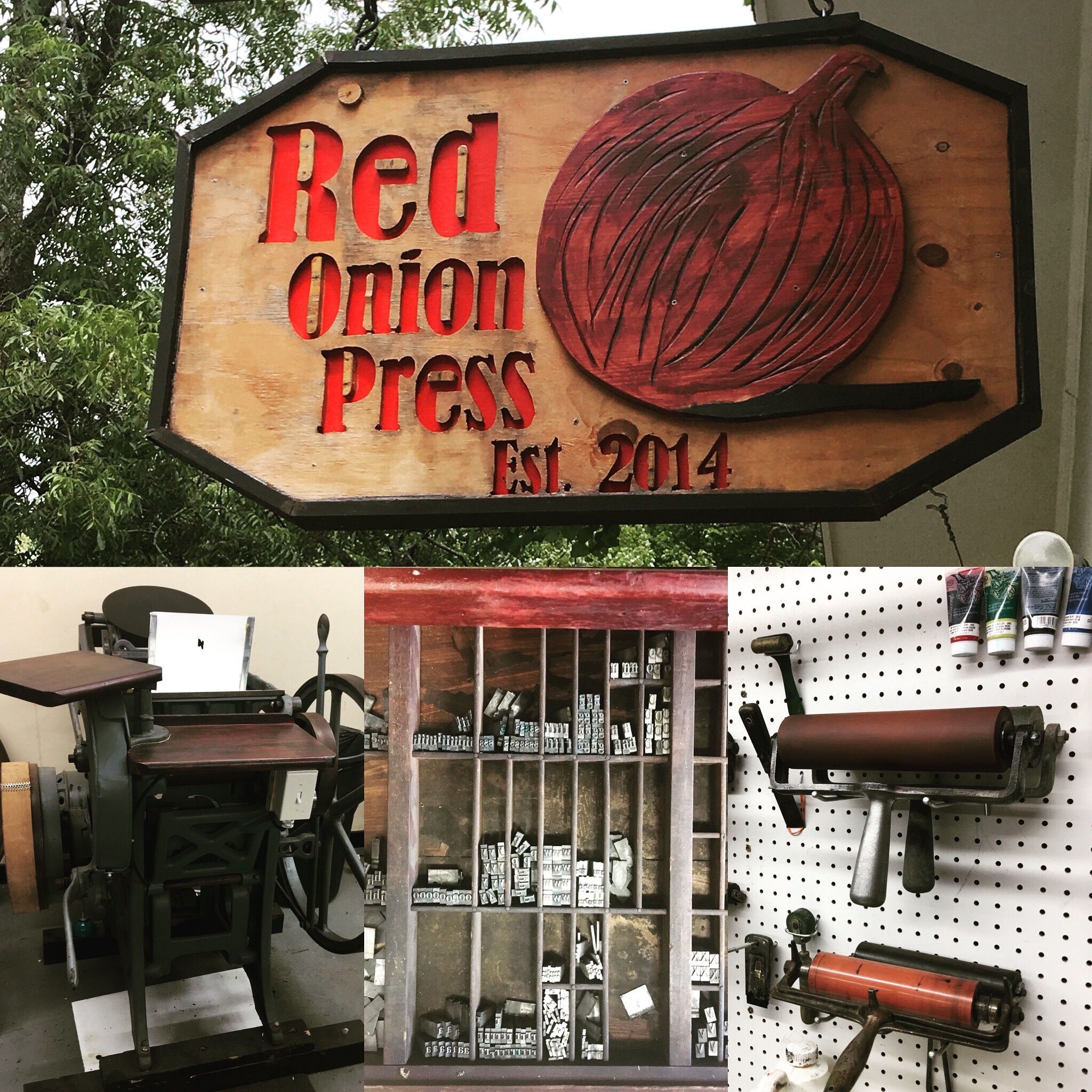 Membership
Membership is open to anyone with or without printmaking training. If you are new to the medium we recommend that you take one of our classes. Basic training in printmaking or letterpress is required to be able to work independently in the studio.
Studio members may display works for sale, participate in exhibitions, offer classes, and independently access our studio.
studio internships
Open to anyone in the community, but especially suited toward current students and recent graduates, our studio internships are a great way to gain hands on experience working inside a fine arts non-profit. Interns commit to 10-15 hours per week helping with our day to day operations. A minimum commitment of three months is necessary. Interns gain experience in gallery management, studio operations, and fine art publishing. Interns have the opportunity to learn from trained professionals working in printmaking and letterpress and to access and use our facilities to work on their own projects free of charge and at a reduced rate even after their internship. To apply, submit a letter of interest, resume, and three references to redonionshop@gmail.com.